PDXpert 7.x - BOM & ECN tutorial
For updated tutorials on the current release, see the PDXpert 8.0 tutorials.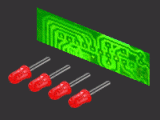 In this tutorial, we create a bill of materials for a simple LED indicator assembly. We first define a couple of parts, add a supplier source (with file attachment) to one of the parts, and then run a BOM report. We also demonstrate a simple change workflow by processing an engineering change notice to release these items. The tutorial finishes up by showing how to revise the bill of materials that we released on the ECN.
The entire slideshow takes about 8 minutes, and you can duplicate this procedure using your PDXpert software. You can also download the PDXpert 7 Evaluation Guide.
This tutorial applies to the current PDXpert software release. Contact us if you need assistance with an earlier release.