PDXpert PLM Software
Simple, flexible product lifecycle management software for growing companies™
PDXpert web meeting
Set up
Internet Explorer 9 (or above), or the latest version of Chrome or Firefox. (Mac users should use Safari.)
Your browser must support video
On Android or iPad, there's a free

join.me

download in the app store.
Your monitor/projector resolution should be 1024x768 pixels (or more).
Full technical requirements and info on join.me client apps are here.
Connect to the meeting
1. Start meeting: https://join.me/pdxpert-plm
2. Connect to audio: Phone or Computer
Click on the phone icon: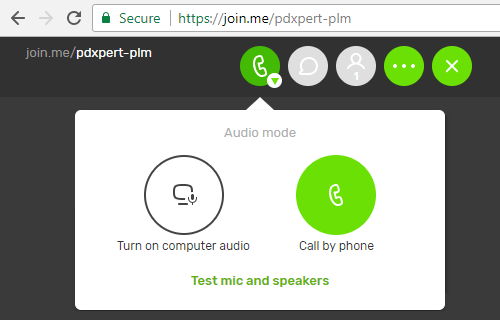 Dial one of the phone numbers shown, or click the Call by computer button.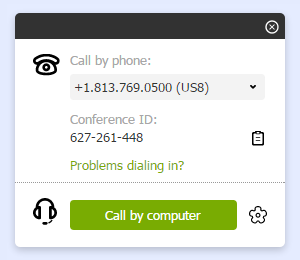 If prompted, enter the conference ID: 627-261-448 #
Enter the meeting
If the meeting is locked:
Type your first and last name, and
Click the

knock to join

button.

If you see Waiting for presenter, please wait for your PDXpert host to start the meeting.
Meeting software controls
Full screen
Click the full screen button to maximize the presentation image on your screen.

Or, click the Zoom button and select Full screen.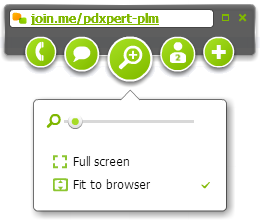 Or, most browsers will change to full screen when you press F11 on your computer's keyboard.
To exit full screen mode, press Esc on your keyboard or use the Zoom button.
Zoom to adjust screen
Use your mouse scroll wheel to change how the presenter's screen is displayed.