PDXpert PLM Software
Simple, flexible product lifecycle management software for growing companies™
PDXpert web meeting
Get ready
Monitor/projector resolution: At least 1280×720 pixels
Web browsers: Use Chrome, Firefox, Edge, Safari, Internet Explorer 9 (or above). Chrome has the best HTML5 support, others less so. Your browser must support video streaming.
Windows and Mac: there's a free native app to download and install.
Android or iPad: there's a free

join.me

download in the app store.
Full technical requirements for your computer.
Join the web meeting here: https://join.me/pdxpert-plm
Meeting audio
After you've entered the meeting, the phone icon lets you use your computer's audio or call by phone.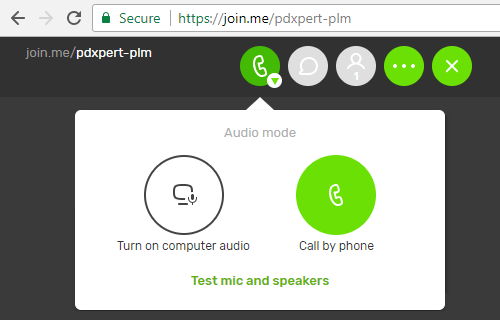 Help topics
When using a PC or Mac, there are two ways to join a meeting: either from your browser or from a desktop app.