PDXpert web meeting
Requirements
Your Internet browser must have Adobe Flash Player 10.3 (or higher) installed. When you click on the meeting link below, Adobe will detect and - if you wish - install Flash Player for you.
Your monitor resolution should be 1024x768 pixels (or higher).
Click here to test your system. Some users report that Microsoft Internet Explorer 9 or later seems to work best.
Meeting link
http://tryac6776015.AdobeConnect.com/PDXpert/
Enter the meeting
On the Adobe Connect meeting window, using the Enter as a Guest option:
Type your first and last name, and
Click the

Enter Room

button.
If your PDXpert host has not yet started the meeting, please be patient.
More information about the meeting software
If you have never attended an Adobe Connect meeting before, use this link to test your configuration:
https://tryac6776015.adobeconnect.com/common/help/en/support/meeting_test.htm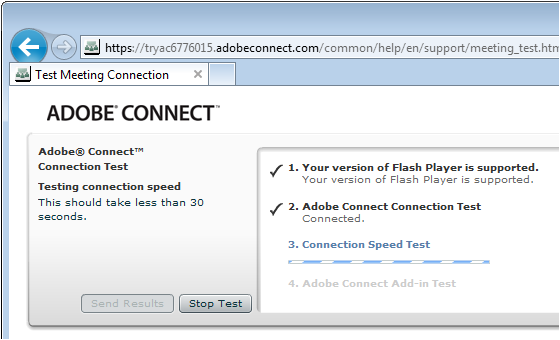 You can choose to install or skip the Adobe Connect Add-in, which allows some optional capabilities.
Get a quick overview: http://www.adobe.com/go/connectpro_overview