PDXpert PLM Software
Simple, flexible product lifecycle management software for growing companies™
Replace your Excel BOMs with professional bill of materials software
Are you finding Excel bill of materials spreadsheets too painful?
New companies often begin their path to product lifecycle management software by looking for Excel bill of material spreadsheets. These BOM spreadsheet templates are easy to create, and can be useful for a short period.
However, after you have several Excel BOM spreadsheets, you'll begin to see the complexity and expense of maintaining them. And the risk of costly production errors rises significantly as your collection of bill of materials spreadsheets grows.
The problem? Excel bill of material spreadsheets can't enforce product data accuracy. You're working with bits of data, not a consistent part object. One cell is pretty much the same as any other cell. Each element of part data must be entered over and over again. It's far too easy to create duplicate or enter invalid part numbers.
Every worksheet cell is a never-ending source of potential — and often very expensive — errors.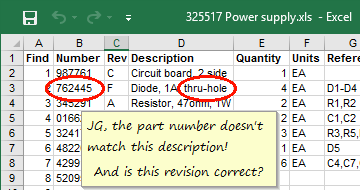 Managing multi-level indented Excel BOMs is virtually impossible
Multi-level BOMs are incredibly useful, but Excel fights you at every step. For example, consider an automobile's electric window motor assembly, common to 4 door locations. Listing these motor assemblies within the complete product structure requires you to manage 4 identical lists, one for each door assembly. And if the motor assembly has subassemblies, or is used across many products, imagine the time and effort wasted in finding and updating a single component.
Design files? Revision control? Not in Excel!
There's no history of who changed something, when or why it was changed, or whether you're looking at the approved revision of each item. Managing qualified supplier parts is tedious and time-consuming.
Attaching related design files, datasheets and specifications is impractical. Frequently-used parts are difficult to locate and manage across multiple BOMs.
If you're using Excel to calculate product cost roll-ups, it's not easy maintaining part unit costs except for very basic assemblies. And it's essentially impossible to record substance content for RoHS and WEEE material declaration reporting.
Excel simply can't structure the detailed data that should be associated with each part.
Specialized bill of materials capabilities in PDXpert PLM software
PDXpert makes finding the interrelationship between all of our parts effortless, including our Suppliers' part numbers.
PDXpert PLM software is specifically designed to avoid the time, effort and errors of Excel BOM spreadsheets.
Prevent duplicate part numbers by defining assignment and uniqueness rules
Instantly update all parent BOMs upon release of a new child revision
Use free-form text search to quickly locate parts and assemblies
Drag and drop complete parts onto any bill of material
Employ where used lists to identify which assemblies use an item, where it appears as a source, and what changes have affected it
Print & export multi-level indented bills of materials, and roll up costs and materials into top-level product structures
Maintain a complete bill of materials revision history with full audit trail of all changes
Permit only selected users access to unreleased and canceled parts or documents
Create unlimited supplier sources with preferred rank, file attachments and approval history
Attach design, production and acceptance files directly to database items, for immediate viewing by engineers, quality personnel and supply chain managers
Export parts lists for your supply chain partners in Adobe Acrobat PDF and Microsoft Excel XLS file formats
Enjoy the advantages of professionally developed and maintained software including comprehensive, context-sensitive documentation; professional configuration and operation advice; training materials; on-going feature improvements
Watch how fast and easy bill of material management can be! Or, for more details and a screen image, see PDXpert PLM's structure management features.
Let PDXpert PLM software replace your Excel bill of material spreadsheets
PDXpert PLM has been specifically designed for smaller organizations making the transition to automated product structure management. It's easy for users to find their items using free-form text search, then create complex products by simple drag-and-drop BOM construction.
We invite you to:
Parts, Sources & BOMs
PDXpert Features
Learn More