PDXpert bills of materials ("structures")
Structures are hierarchical lists of items that report to a common "parent". Although similar to a bill of materials, a structure offers the flexibility to include non-physical items like requirements, specifications, software, process and inspection documentation.
PDXpert PLM offers an easy-to-use structure markup process: simply search for your child item using the Item Explorer, and drag it onto the parent item's Markup list. It couldn't be easier!
Build hierarchical parent-child BOM relationships with unlimited levels
"Drill down" into any structure, and open child items to display associated design files from the data library
"Drill up" to show which assemblies use the current item
Assign a virtually unlimited number of items to any structure level
Define bill of materials attributes like quantity, units of measure and reference designators
Add, replace or remove child items across multiple structures using the powerful Markup Wizard
Roll up assembly costs, assembly weight, and material composition
Print bill of materials reports and export in Excel and Adobe PDF
Export bill of materials to downstream manufacturing systems in a variety of text-based formats including XML, CSV, tab-delimited, etc.
View the assembly's original structure on its Markup list
The Current list automatically displays most recently-released revision of every child item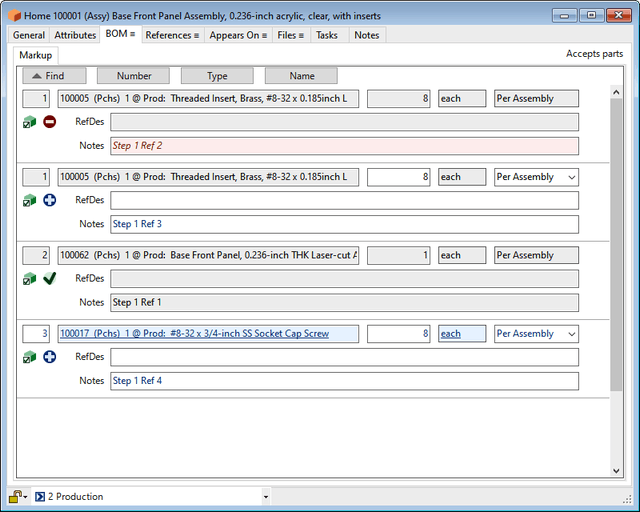 See Also
PDXpert Video:
Parts, Approved Sources & Bills of Materials