PDXpert PLM Software
Simple, flexible product lifecycle management software for growing companies™
Custom data import services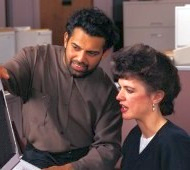 PDXpert PLM software includes a built-in tool that imports your part and document records, bills of materials, approved vendor sources, and design files. We even provide a tutorial with example files that show how to format your import data.
However, consider using our services when your data is complex; must be reconciled between multiple data sources; requires a complete change history imported or synthesized; or can only be derived from file names or extracted from indexed file content. Our database professionals have many years of experience in data extraction, cleansing and reconciliation of engineering and manufacturing data.
If your organization has legacy product information in another PLM system, an ERP system, home-grown databases, PDX packages, or even spreadsheets, we can help migrate that data into your new PDXpert PLM system.
To initialize your PDXpert PLM system, we can extract data from existing sources such as:
PLM/PDM database systems, such as Acseni, Agile, Aras, Autotrol, CMstat, MatrixOne, PTC, UGS
SaaS data from Arena Solutions and other IPC-2570 ("PDX") package sources
ERP/MRP/MES parts and bills of materials from Axapta, Baan, CostPoint, Epicor, Fourth Shift, Macola, Made2Manage, Navision, NetSuite, Oracle, SAP, Symix, SYSPRO and many others
Proprietary part & document databases in Microsoft Access, dBase, FoxPro, MySQL, Oracle, Paradox, SQL Server
Individual spreadsheet (XLS/XLSX/CSV) and text formats like XML, PDF and RTF files
Server-based file directories, from filenames and file contents
We can also create custom data transformations and database views to export part, BOM and other records to upstream CAD tools and downstream manufacturing and related systems.
For more information, including a technical feasibility assessment and price quote, please contact us.
Note: All trademarks are the property of their respective owners.