PDXpert PLM software: Approved vendor sources
One or more suppliers can be specified as the source for a part. PDXpert PLM allows flexibility in how you define your part sources: vendor parts, internal alternates, or both. While many PLM systems create an artificial barrier between items that your organization manages and those of other organizations, PDXpert PLM unifies these into a single interface that lets you use any item in your database as a reference to any other item.
PDXpert PLM offers an easy-to-use source markup process: simply search for your child item using the Item Explorer, and drag it onto the parent item's Markup list. It couldn't be easier!
Identify supply chain partners and their part numbers, with supporting electronic datasheets and drawings
Assign a virtually unlimited number of sources to any part
Apply preference ranking based on technical merit
Research which components are sourced from the current item
Attach any number of files to a part; check-out/-in files for modifications without conflicts
Define part materials and report the results for RoHS/WEEE
Export supplier source lists to downstream manufacturing systems in a variety of text-based formats including XML, CSV, tab-delimited, etc.
Track changes to an item's sources over time using its Markup list
Release a new source revision that automatically updates every purchased item that uses it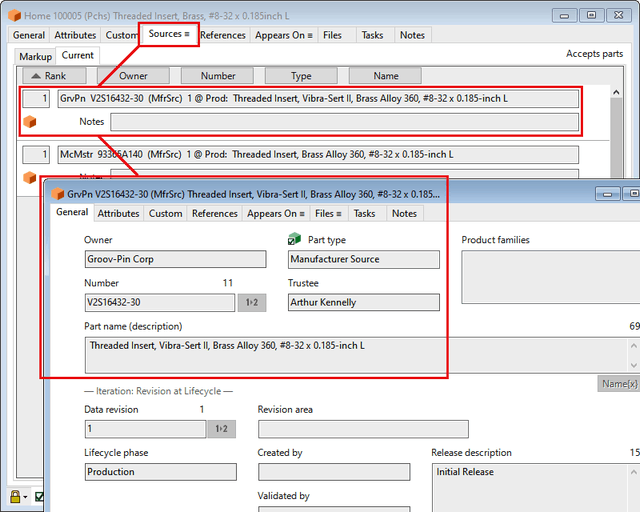 See Also
PDXpert Video:
Parts, Approved Sources & Bills of Materials