PDXpert PLM Software
Simple, flexible product lifecycle management software for growing companies™
Designing an Access bill of materials database? Watch out...
Developing your own Microsoft Access bill of materials management software is certainly attractive. After all, you just want a list of parts and quantities, right? And isn't this a perfect use of Microsoft Access or other inexpensive desktop database?
Probably not.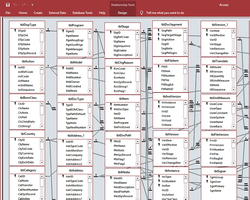 Because you'll also want to:
Search for items across various data properties, regardless of what bill of material they appear on
Auto-generate a part number according to its assigned item category
Identify and exclude unreleased or obsolete parts from released bills of material
Approve changes to your current bills of materials
Maintain a version history of your bills of materials
Attach electronic files to items on your BOM, including CAD files, procedures, specifications, quotes and website links
Create multi-level bill of materials reports, consolidated parts lists, and cost rollups & weight rollups
Export bills of materials for your supply chain partners
Manage material content to meet evolving recycling and disposal regulations
Work within a modern user interface that lets you drag-and-drop parts and enjoy "nice to haves" like spell-checking
Offer context-sensitive online user documentation and BOM best practice guidelines
Add more users as your company grows, despite the very real limitations that Access imposes on simultaneous users
Creating a useful bill of materials database application is difficult and time-consuming, and requires the complete understanding of subtle business rules for revision control and change processing. How will you ensure the preceding revision is canceled when the new revision is released? Will new item revisions automatically replace canceled revisions? How are units of measure converted? Do your users want to attach design files and assembly instructions to items on the BOM? What's the best recursion routine for printing indented product structures? What performance can you expect from your Access bill of materials database as your company grows? Do you really want that phone call every time someone has a question?
What starts out as a "fun little project" quickly becomes a major distraction.
Fortunately, there's an easier way... Let our BOM database experts do it for you!
Simple, flexible bill of materials software: PDXpert PLM
PDXpert PLM is very customizable, and easy to use and implement. I have experience with more expensive modular systems and PDXpert can pretty much do what any of those expensive ones do.
PDXpert product lifecycle management (PLM) has been specifically designed to provide the following BOM management capabilities:
Quickly find relevant items using powerful attribute search
Easily drag-and-drop the most current data onto bill of material markups
Instantly know an item's status (e.g., unqualified, qualified, obsolete)
Work separately with current releases and proposed markups
Enforce rules for each assembly type to ensure correct product structure contents
Obtain insight into both assembly line-item costs and RoHS/WEEE materials lifecycle costs
Retain a full audit trail of all changes to the bill of materials, including when and why it was changed, who approved the changes, how affected items were dispositioned, and the total recurring and non-recurring cost
Navigate up and down the BOM hierarchy just by simple double-clicks
Change system rules and configuration options without special programming
Support system growth from a single user to hundreds of users with scalable Microsoft SQL Server
Report and export product data for your supply chain partners in Adobe Acrobat PDF and Microsoft Excel XLS file formats
Leverage our man-years of professional software development at a substantially lower cost than an in-house BOM software development project. We'll let you focus on your company's product priorities.
PDXpert PLM software can increase sales revenue through faster product releases; lower product costs by using more accurate BOMs; and reduce administrative overhead by providing important supporting information (like cost and material roll-ups) automatically.
See for yourself how PDXpert PLM is better than an Access BOM database
PDXpert PLM has been specifically designed for small and mid-sized companies moving up to automated bill of material management. It's easy for users to find their items using free-form text search, then create complex products by simple drag-and-drop BOM construction.
We invite you to:
Parts, Sources & BOMs
PDXpert Features
Learn More