PDXpert PLM Software
On-line Help Guide
This help topic describes the current PDXpert PLM release. Earlier releases may be different. To view your release's version of this topic, open PDXpert and press the F1 key or select the Help menu.
Change forms
Change forms should be Completed, Canceled or Rejected before editing their related Change Forms member. When a new change form is created, workflow, participants and some collection member attributes are copied from this template to the change form. New settings may not affect previously-created change forms, or may have unexpected results.
Other users should not be using the system while you're working. Close all item records in your workspace before you begin. Restart your PDXpert client application when you've finished.
Purpose §
Classifies changes according to their usage; assigns numbering sequences; enables options; manages standard approval and email notice lists; defines workflow and custom properties.
Where used §
Change form
Data fields §
General tab §
Attributes tab §
Text Templates tab §
Participants tab §
Workflow tab §
The workflow map is used to enable various workflow paths between a change's current state and the next permitted state. The map also specifies which groups of users are notified as the change moves through the approval workflow.
The workflow diagram displays all possible lifecycle states. For each lifecycle state, you can (a) enable or disable the workflow paths to other states; and (b) identify the user groups that should receive an email notice when the change moves to that state.
Custom tab §
You can define custom attributes (or "properties" or "extensions") to the system-supplied attributes for each change form. When a new change is created, the custom attributes appear on the change's Custom tab. For a complete description, see the Collections reference > Custom attributes topic.
Setup suggestions §
Implementing and informational change forms §
PDXpert distinguishes between two categories of changes. Informational changes (such as change requests) propose changes, yet even upon release won't update the items on the Affected list. Implementing changes (like change notices) will affect the status of documents and parts listed on them. (See help topic How to work with change forms > Processing a change for details.) Implementing changes cannot be routed if an affected item has a rule violation, such as canceling an iteration that's still on a released parent item.
You define an implementing change by marking Release/cancel iterations when change is released. If you create a change based on an implementing change form and put a document or part to the change's Affected tab, then that item's status is updated at the same instant that the change form is released.
Workflow states & paths §
The diagram shows all change lifecycle states. As each change form is processed, it moves from one state (say, Originated) to another state (Routed) along an enabled workflow path (path 03). When the change moves, it can notify persons affected by the process.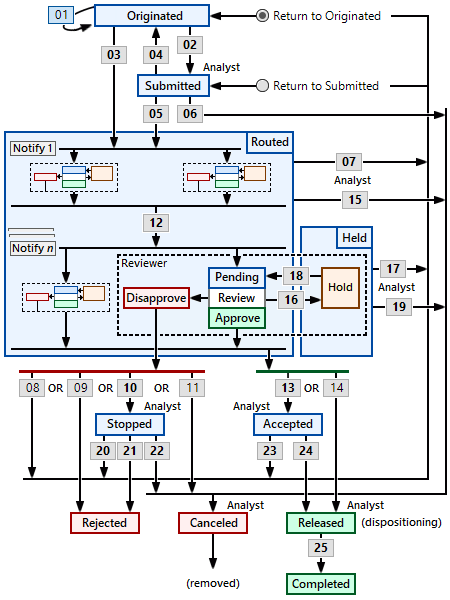 Notes regarding specific workflow states:
The

Submitted

and

Accepted

states allow the analyst to confirm that the change form has been processed correctly.

Submitted

provides the opportunity to verify that the change form meets internal standards for completeness and accuracy, while the

Accepted

state allows the analyst to verify that all reviewers' comments have been accommodated before the change form's release. If the organization doesn't require such intermediate reviews, then disabling path

02

and enabling path

14

provides the shortest workflow.
In smaller organizations, a disapproved change invariably is reworked and then re-routed for approval; it's therefore common to enable path

08

. In more complex review processes, the change form can be disapproved for a variety of reasons, and therefore enabling path

10

offers the most flexible recovery.
Reviewers with participation set as

Must act

should keep the

Response

in

Pending

state until they're ready to approve or disapprove. Reviewers with participation set as

Can act

may use the

Held

state to block the change from leaving the

Routed

state while they investigate the change. If your

Reviewing groups

list doesn't include reviewers set as

Can act

, disable path

16

and rely on the

Disapprove

paths

08

to

11

. When enabling path

16

, keep in mind that the reviewer requires the analyst's assistance in moving the change back to

Routed

.
Moving a change into the

Canceled

state allows it to be permanently deleted from the system. The other terminating states,

Completed

and

Rejected

, retain a permanent record of the change.
In the

Released

state, the dispositioning attributes can be modified and closed; in the

Completed

state, these attributes are locked.
2012
Learn More
Help Guide Contents [PDF]