PDXpert PLM Software
On-line Help Guide
This help topic describes the current PDXpert PLM release. Earlier releases may be different. To view your release's version of this topic, open PDXpert and press the F1 key or select the Help menu.
Windows update service
In contrast to typical single-user software, multi-user database applications such as PDXpert have demanding communications and infrastructure requirements. As such, they're often more sensitive to unexpected changes in their working environment.
PDXpert software relies upon services provided by Windows and particularly the Microsoft .NET application framework. PDXpert also requires a stable installation of the Microsoft SQL Server database engine.
Windows, .NET and SQL Server updates performed while the PDXpert client or PDXpert Application Server is active can cause unpredictable results.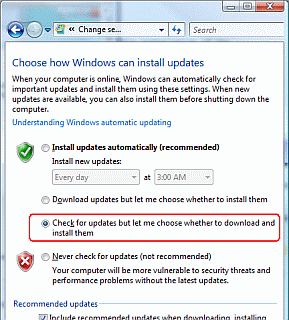 For best results, you should not accept automatic updates using the Windows Update background service while PDXpert is running. You should promptly accept updates and then restart PDXpert.

For Windows XP/Server 2003: Start > Control Panel > Automatic Updates > Notify me but don't automatically download or install them
For more recent Windows: Start > Control Panel > Windows Update > Change settings > Check for updates but let me choose whether to download and install them

The PDXpert client caches a significant amount of data. When the Windows Update service indicates that your computer will be (or has been) updated, you should close and re-open the PDXpert client to refresh the cache.
On the computer where your PDXpert Application Server is installed, reboot the computer after any update to Windows, .NET or SQL Server.
3019
Learn More
Help Guide Contents [PDF]